Crime investigation through DNA methylation analysis: methods and applications in forensics
Egyptian Journal of Forensic Sciences
2018
8:7
Received: 5 September 2017
Accepted: 12 January 2018
Published: 24 January 2018
Abstract
Discerning monozygotic twins, precisely predicting the age of human beings and most importantly interpreting human behavior remains a big challenge in forensic science. Modern advances in the field of epigenetics especially analysis of DNA methylation pattern can certainly help to identify and discriminate various single-source DNA samples such as bodily fluids collected from the crime scene. In this review, cytosine methylation analysis of DNA has been methodologically discussed with a broad range of applications in forensic science such as identifying single or mixed body fluid, discriminating monozygotic twins, age prediction, addiction/behavioral prediction as well as race/ethnicity identification. With the advances of next-generation sequencing techniques, blooming of DNA methylation datasets and together with standard epigenetic protocols, the prospect of investigating and solving these critical issues in forensic science is highly promising in the court of law.
Keywords
DNA Methylation5-methylcytosineDifferentially Methylated RegionsCell DifferentiationHuman IdentificationForensics
Background
Forensic biology often involves the study of challenging samples such as discriminating monozygotic twins, predicting age of human from its left over body tissue and distinguishing indiscernible body fluids/tissues whose identity determination remains a big challenge in the forensic laboratories. At the site of the crime, the body fluids of a human such as blood, semen, visceral fluid, vaginal fluid, saliva, or even menstrual fluid are washed out of its natural texture and are often mixed or discolored due to drying/bleaching out during a long exposure. Such obscure exhibits present a big challenge in front of forensic scientists to determine the actual cause/severity of the crime. The current method of DNA investigation in forensic laboratories is carried out by Identifiler®/GlobalFiler® Express kits (Life Science Technology Ltd) (Hennessy et al., 2014; Mulero et al., 2008; Wang et al., 2012) or PowerPlex® kit (Promega) (Oostdik et al., 2014) or Investigator® 24Plex kits (Qiagen) (Chen et al., 2010), which measures at least the 13 core short tandem repeats (STR) loci recommended by Federal Bureau of Investigation (FBI), USA. The method is quite fast and concludes all the polymorphic STR alleles by multiplex amplification of DNA from the picogram (pg) levels of DNA concentration (Green et al., 2013). When phenotypic identification is concerned from the sources of samples with same DNA sequence, STR technology fails to differentiate them on the basis of STR polymorphism which is identical in all the cells/tissues of a single human body or monozygotic twins, however, profiling DNA methylation pattern (Moore et al., 2013), especially 5-methyl cytosine (5mC), certainly possesses great potential to identify such human samples. 5mC is the most studied methylated base that passes on an extra layer of information (epigenetic) upon the genetic code is an important signature of obvious or subtle phenotypic differences observed in humans or human tissues (Heyn et al., 2013; Lister & Ecker, 2009). A large number of research advances in detection and quantification of 5mC have assisted epigenetic modifications to be connected to a plethora of phenotypic alterations (Richards, 2006), that may form an independent part of the forensic study or corroborate the existing STR results. Apart from this, the other modifications of cytosine although minor are 5-hydroxymethylcytosine (5hmC), 5-formylcytosine (5fC) and 5-carboxycytosine (5caC) (Szulik et al., 2015) and all these modifications including 5mC are more often modulated either through cell-specific epigenetic expression pattern or environmental factors (Jaenisch & Bird, 2003), psychological factors(Kim et al., 2016; Lam et al., 2012) or physical stress acting in and around the cells (Meaney & Szyf, 2005; Unternaehrer et al., 2012).
A major part of DNA methylation pattern is lost while passing on from parents to their offspring; however, there is substantial epigenetic similarity that occurs between parents and offspring which actually recapitulate a parent's particular DNA methylation in the offspring which is known as epigenetic inheritance (Richards,
2006
). These methyl groups in DNA are covalently introduced by enzymes called DNA methyltransferases (DNA MTases) according to the specificities of the DNA MTases which are in turn modulated by the environment (Fig.
1
). The cofactor of the MTases, S-adenosyl-L-methionine (SAM) is used as the donor of the methyl group to methylate DNA at the specific position, most commonly pictured as palindromic sites (Auclair & Weber,
2012
; Jeltsch,
2002
). Some of these methyl groups are removed by demethylases such as ten-eleven translocation (TET) proteins hence causing these methylation marks in the DNA to be reversible and dynamic in nature as per the cellular requirement and the environment (Auclair & Weber,
2012
) (Fig.
1
). The field of molecular epigenetics is a swiftly developing area of research with a great emphasis on gene regulation, developmental biology as well as in therapeutic applications (Kalozoumi et al.,
2012
). The omnipresence of DNA methylation in almost all kingdoms of life and the distribution and diversity of DNA MTases in different species reflects their importance and vital cellular functions. 5-methylcytosine and N6-methyladenine in the prokaryotic kingdom are fundamental for regulation of DNA replication, cell cycle, protecting DNA from restriction enzymes and conferring virulence to certain strains (Casadesus & Low,
2006
; Low et al.,
2001
; Ratel et al.,
2006
). As compared to the invertebrate kingdom, where the genome modification is less pronounced with a minor fraction of methylated DNA, the vertebrate's genome is modified with a diversity of nucleotide modifications (Deaton & Bird,
2011
; Koziol et al.,
2016
). In humans approximately 3% of the DNA is found to be 5mC methylated mostly at the CpG dinucleotides (Strachan & Read,
2011
) by the action of three major DNA methyltransferases viz. DNMT1, DNMT3a, DNMT3b (Moore et al.,
2013
) (Fig.
1a
). Also, N6-methyladenosine in DNA (m6dA) has been recently discovered and identified in the nuclear genome of few vertebrates including human, mostly present in the intronic regions, which shows variations among the cell types (Koziol et al.,
2016
).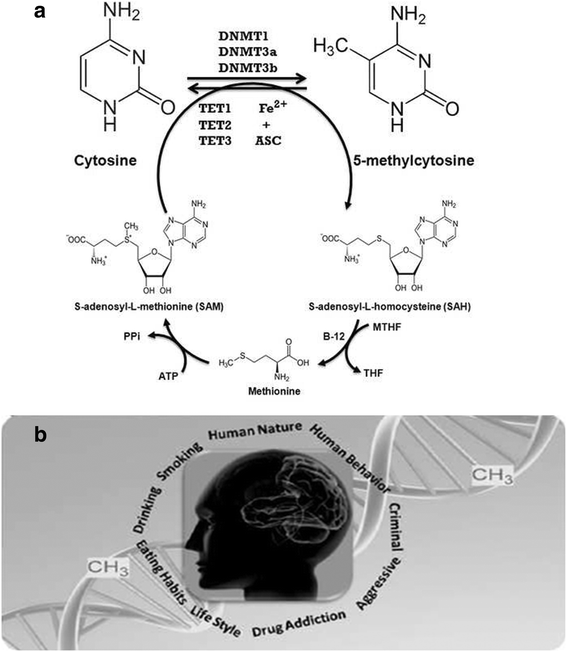 In humans, differentially methylated regions (DMRs) have been observed in chromosomal DNA, i.e. altered methylation patterns on same chromosomal DNA among different tissues or among individuals or others (Choufani et al., 2011). These DMRs observed among multiple tissues (tDMRs) of humans depicts a molecular view of epigenetic changes marked among different tissues. Forensic cases involving monozygotic twins study, tissues identification, human age determination or predicting his/her behavior are not possible to assort through STR profiling which is solely based on variation in DNA sequence repeats called short tandem repeats (Oostdik et al., 2014; Wang et al., 2012). On the other hand, methylation marks flagged in the DNA sequence is a result of cell type as well as its immediate environment (Marsit, 2015).
DMRs can be studied by many new emerging next generation sequencing (NGS) methods. NGS method supersedes the first generation sequencing method (chain termination method) which was introduced by Frederick Sanger, by incorporating two more dimensions in it viz. massively parallel sequencing and high throughput analysis (Mardis, 2013). Sanger method of DNA sequencing used ddNTPs as the chain terminators in addition to usual dNTPs in the ratio of 1:100 to sequence the phage ϕX-174 DNA (5,386 nucleotides) using polyacrylamide gel analysis (Sanger et al., 1977). In NGS method, sequencing of huge DNA such as of human (~3 billion nucleotides) can be carried out in a single day by synthesis of all the fragments of the genome so created using polymerase and labeling each nucleotide that is being incorporated. The problem only lies in the interpretation of the big data so generated.
Bisulfite conversion of genomic DNA and subsequently employing the next-generation sequencing (BS-seq) is now a technique of choice to study the 5mC profile of the genomic DNA. 5mC profiling with the advent of NGS platform, Illumina (Masser et al., 2015) has provided a boost to the BS-seq method as well as led to the creation of many methylation databases (Grunau et al., 2001; Hackenberg et al., 2011). The detection of DNA methylation patterns is an advancing area of research in forensic science, which promises to distinguish various cell/tissue types (Zhang et al., 2013) or monozygotic twins (Levesque et al., 2014; Li et al., 2013), accurately estimate human age (Bekaert et al., 2015; Horvath, 2013), identify human bio-geographic/ethnicity type (Heyn et al., 2013; Xia et al., 1846) and can be applied to predict human behaviour as a new part of investigative forensic (Kockler et al., 2006; Kovatsi et al., 2011).
Starting Forensic Samples, Collection Protocol and Storage
Starting Forensic Samples
Except for the paternity dispute where blood samples or buccal swabs are collected without any contamination, damage or deterioration, most of the biological samples collected from the crime scene legally known as exhibits are highly challenging to process in the forensic laboratory. Blood, blood stained objects, tissues, flesh, semen, vaginal swab from rape victim, hair, teeth, bone, saliva, epithelial cells, objects forcibly touched especially where body fluids/epithelial cells are left-over (for touch DNA analysis), bite marks on body, cigarette stubs, drinking bottles, toothbrush etc are some of the frequently observed and collected exhibits during investigation of a crime scene.
Collection Protocol and Storage
If it's a criminal case, then any body fluids found at the site other than on clothes are lifted on a sterile gauze piece with the help of sterile forceps. If the fluid is already dried at the crime scene then gauze piece/stain as such is first wetted in phosphate buffer saline (PBS) and then lifted with the help of forceps. The blood stains or non-blood biological stains are on victim/suspect cloths, or on small objects, then whole cloth/object as such is packed in a paper packet and finally in a cardboard box. If it's a civil case such as paternity dispute, then blood samples on gauze piece or buccal swabs on the cotton of toothpicks are collected. All the wet exhibits, are first dried preferably in shade, wrapped in brown paper which are then finally sealed and labelled in a paper envelope where collector (usually a forensic expert) puts his/her signature with date and time of collection. The bone piece (flesh removed), teeth or hairs are also wrapped in brown papers in dry condition and then sealed in a paper envelope/carton boxes. If the exhibit is flesh, then instantaneously it is put in sterile metallic container, packed with ice/dry ice or in liquid nitrogen if available, which is then immediately shipped to the forensic laboratory through proper channel. The sealed and signed samples collected from the forensic experts are handed to the Investigating Officer (I/O) of the case (generally a police officer in rank of sub-inspector (SI) or above) who from first to last through the proper chain of custody, forwards the exhibits to the State Forensic Laboratory through the Judge of Civil or Criminal Court as the case may be, bearing his/her majesty's seal and signature in the court's forwarding letter as well in the exhibit packet(s).
Methods and Techniques of DNA methylation analysis
A very sensitive as well as specific detection of 5mC methylation pattern on the DNA obtained from the questioned sample(s) is required to be devised to be followed routinely in a forensic laboratory. Although one of the easiest methods to detect and identify DNA methylation pattern is through the use of Illumina Infinium BeadChip array (the latest technology is the MethylationEPIC BeadChip (Moran et al.,
2016
)) which is nonetheless very expensive method to be used routinely in forensic analysis, however there are other molecular approaches and techniques which have been known for decades and some of them developed recently for detection and analysis of 5mC methylation pattern (Table
1
). It should be noted that all these methods and analyses are based on either bisulfite treatment of DNA or use of methylation-sensitive restriction enzyme(s) or use of an antibody against the methylated base or a combination of them. These methods and techniques require certain amount of DNA in picogram (pg i.e. 10
-12
g) or nanogram (ng i.e. 10
-9
g) or microgram (μg i.e. 10
-6
g), have different resolving power of methylation status in terms of bp and some are quite expensive and others relatively less expensive (Table
1
).
Table 1
Methods/techniques for detecting/analysis of Differential DNA methylation
| S. No. | Methods/Techniques | Quantity of human DNA required | Maximum Resolution (bp) | Gene Specific | Epigenomic | Priced in USD | References |
| --- | --- | --- | --- | --- | --- | --- | --- |
| 1. | Bisulfite Sequencing (BS-Seq)/BS-Pyrosequencing/Whole Genome Bisulfite Sequencing (WGBS)a | 30 ng / 50 pg/2-5 μga respectively | 1 | ✔ | ✔ | $100 + $100-1000 per test, (DNA methylation analysis kit from Thermo Fisher Scientific) | (Gu et al., 2010; Bibikova et al., 2011; Antunes et al., 2016; Vidaki et al., 2016) |
| 2. | Methyl Specific PCR (MSP)/MethylLight MSP/Mc-MSPa | 100 pg / 10 pg/ 1-10 μg respectively | 1 | ✔ | ✘ | $100 + $100-300 per test, (DNA methylation analysis kit from Thermo Fisher Scientific) | (Herman et al., 1996; Rand et al., 2002; Kristensen et al., 2008; Lo et al., 2009) |
| 3. | COBRA Methylation Assay/ Bio-COBRAb | 1 μg/20 ng respectively | Not Applicable | ✔ | ✘ | $100 + $100-200 per test, (DNA methylation analysis kit from Thermo Fisher Scientific) | (Xiong and Laird, 1997; Brena et al., 2006; Brena and Plass, 2009; Yang et al., 2010) |
| 4. | HELP Methylation Assayb | 100 ng - 1 μg | Not Applicable | ✔ | ✔ | $100 + $200 per test, (Thermo Fisher Scientific, New England Biolabs) | (Khulan et al., 2006; Oda and Greally, 2009; Shaknovich et al., 2010) |
| 5. | Methylation-sensitive Restriction Enzyme based Microarray (MRE-Microarray)b | 250 ng - 2 μg | 1 | ✔ | ✔ | $100 + $5,800- 16 tests, EPIC array | (Fouse et al., 2010) |
| 6. | Illumina Infinium Methylation Assay (Bead Array and NGS Analysis)a | 200 ng - 1 μg | 1 | ✘ | ✔ | $3,300 12 tests, EPIC library, $5,800 16 tests, EPIC array | (Bibikova et al., 2011; Thompson et al., 2012; Touleimat and Tost, 2012; McCartney et al., 2016; Pidsley et al., 2016) |
| 7. | Methyl-CpG Binding Domain Protein Sequencing (MBD-Seq)c | 5 ng - 1 μg | 150 | ✘ | ✔ | $550 – 48 tests (diagenode®) | (Fraga et al., 2003; Rauch and Pfeifer, 2005; Lan et al., 2011; Aberg et al., 2012) |
| 8. | Methylated DNA Immunoprecipitation (MeDIP) PCR/Sequencingc | 120 ng - 1.0 μg | 100 | ✔ | ✔ | $390 – 24 tests, $590 – 48 tests (abcam®) | (Mohn et al., 2009; Sorensen and Collas, 2009; Borgel et al., 2012; Taiwo et al., 2012; Zhao et al., 2014; Staunstrup et al., 2016) |
| 9. | Methylation Analysis through Single Base Extension (SBE)a | 0.5 ng to 1.0 ng of gDNA or 1.0-5.0 ng of cloned template DNA | 1 | ✔ | ✘ | $840 – 100 tests,(SNaPshot™ Multiplex Kit from Thermo Fisher Scientific) | |
Applications of DNA methylation in Forensic Science
Conclusions
The field of epigenetics has recently made a landmark entry in the research of forensic sciences as it has a high significance in critical identification and analysis of forensic samples which otherwise contain exactly the same DNA sequences. DNA methylation particularly cytosine methylation at the CpG sites, the major epigenetic and chemical change in the DNA (Jin et al., 2011) which without altering the DNA sequence leads to phenotypic variation among the various tissues, monozygotic twins or among humans has provided a new vista to distinguish cell types or tissues (Brunner et al., 2009; Lokk et al., 2014), monozygotic twins (Fraga et al., 2005; Heyn et al., 2013; Kaminsky et al., 2009), age of humans (Bekaert et al., 2015; Horvath, 2013; Yi et al., 2015), human races (Adkins et al., 2011; Heyn et al., 2013) or even can be used to predict certain criminal behaviours (Day & Sweatt, 2010; Szyf, 2011; Szyf, 2013).
The epigenetic markers present in the DNA of human cells or tissues can be used to distinguish the different tissues of same the human being, discern monozygotic twins, identify human races, predict human behaviour as well as to accurately determine the age of a DNA donor (Bekaert et al., 2015) using whole-genome bisulfite sequencing using Illumina Infinium BeadChip array (McCartney et al., 2016; Moran et al., 2016; Touleimat & Tost, 2012), or methylated DNA immunoprecipitation sequencing (Borgel et al., 2012; Cheung et al., 2011; Mohn et al., 2009; Pelizzola & Molinaro, 2011; Sorensen & Collas, 2009; Taiwo et al., 2012; Zhao et al., 2014) as discussed above. Interestingly, when micro-volume blood stain, saliva laden cigarette stubs or few fallen hair strands are recovered from the crime scene, extremely low amounts of DNA (≤ 100 pg) as in the forensic case reported from Jharkhand (Rana et al., 2016), can be treated with bisulfite and then subjected to genome-wide amplification (Bundo et al., 2012), followed by quantitative methylation detection using the above technologies. The above methods have been found to produce comparable methylation results, but differ in CpG coverage, resolution, quantitative accuracy, efficiency, and cost. These methods also differ in their capability to detect and discriminate CpG as well as non-CpG methylation sites and the results show variation from one laboratory to another (Jung et al., 2016). Currently, the most advanced current array technology, Infinium MethylationEPIC BeadChip array, offers a unique, logistic and holistic approach, allowing assessment of the methylation status of not only 5mC but also 5hmC, including 2880 CNG sites (where N is any nucleotide and C and G are cytosine and guanine) and 59 SNP sites (Moran et al., 2016). While the Infinium MethylationEPIC BeadChip Array methylation site coverage is quite large, it is still eclipsed by NGS technology when comparing genome coverage and flexibility (NGS will sequence virtually anything and is not restricted to a defined array, although NGS is still more expensive). The use of NGS methods lies in the fact that the methylation reads of the sequence can be used in the mapping of epigenetic variation (among tissues, twins or with the ageing of human being), which can be routinely applied to solve the forensic cases. NGS technology can be successfully exploited in the domain of forensic field by analyzing multiple loci simultaneously of forensic samples from autosomal DNA or sex chromosomes or mitochondrial DNA.
As far as mitochondrial DNA (mtDNA) is concerned, SNP analysis has immense importance in forensic investigation to delineate maternity as well as the ethnicity of an individual in question (Coble et al., 2004; Just et al., 2009). Other than the sequence variability, there are regions of unique methylation patterns that tend to vary among different tissues of an individual (Liu et al., 2016) as well as certain DNA regions where methylation variation can be observed among distantly related individuals. Since the discovery of mtDNA methylation way back in 1977 in animals (Vanyushin & Kirnos, 1977), quantitative and qualitative analyses of mtDNA 5-methylcytosine (5mC) of human from three different sources of tissues viz. blood, saliva, and lung have been recently reported (Liu et al., 2016). Also, N6-methyladenosine in DNA (m6dA), a modification previously thought to be present only in prokaryotic DNA, has been recently discovered and identified in the nuclear genome of few vertebrates including human, mostly present in the intronic regions, which shows variations among the cell types (Koziol et al., 2016). We believe that mitochondria having prokaryotic in its origin must have m6dA modifications preserved in its DNA. The human mtDNA contains both CpG as well as non-CpG methylation patterns (Barres et al., 2009; Bellizzi et al., 2013; Liu et al., 2016). No further work or exploration has been done for mitochondrial m6dA analysis, which is completely an unexplored as well as an exciting field to embark on. Human mitochondrial DNA is smaller in size (16569 bp) in comparison to nuclear DNA (~3 x 109 bp), present in high copy number per cell (~103-104, nearly 10 copies is preset in each of the tens of hundreds of mitochondria per cell) (Lightowlers et al., 1997) and having intact and preserved DNA in double membranous structure, even in the dead and massively destroyed tissues (Barta et al., 2014; Higgins et al., 2015; Nesheva, 2015; Ozga et al., 2016; Schwarz et al., 2009), it has therefore clear advantages over nuclear DNA to be providentially recovered and easily manipulated from the questioned samples referred to the forensic laboratories.
The most remarkable outlook that this review is trying to represent here for the first time is the potential application of DNA methylation profiling to identify the human biogeographic type (racial), ancestry and phenotypic type (ethnicity), or certain criminal behaviour which may aid in gathering unseen (abstract) indirect evidences for some critical forensic cases. The assortment of behavioral evidence is today a part of well-known forensic discipline called 'investigative forensics' involving direct questioning from the suspects/criminals and therefore interestingly this current molecular epigenetic approach of the behavioral study and the investigative forensics/psychological study are concluding at the same end but with entirely different fields of analysis. The current research in DNA phenotyping (physical appearance because of the unique DNA) shows that 24 DNA markers (SNP) can be successfully used to predict the color of the hair as well as the eye of an individual from the DNA obtained from his/her body tissues (Walsh et al., 2013). Other genes responsible for skin color, hair structure, and baldness have been determined (Hart et al., 2013; Liu et al., 2015; Marcinska et al., 2015; Pospiech et al., 2015). In future, this technique can be combined with predicting method of age, bio-geographic/ethnicity as well as behaviour of an individual from the DNA methylation data (Next Generation DNA Phenotyping), which can be used to accurately construct the inclusive facial picture who leaves behind the DNA mark but has no match for his/her DNA fingerprint.
The research field of behavioral epigenetics is still in infancy today, similar to cancer genetics 50 years ago. The reproducibility of differential methylation pattern for many of these human conditions, especially neuropsychology disorders such as addiction and mental health, and the relationship between DNA methylation and altered gene expression and physiology, is required to be systematically analyzed. The epigenome expressed by human behavior is dynamic in nature and is modulated by many internal as well as external factors such as embryonic/human developmental, health issues if any and external environmental. This is why epigenome data interpretation is more challenging than genomic data. Not least, the challenge of eliminating library contamination, error rates of the enzymes used for DNA amplification as well as minimum insert size, adapter and hybridization artifacts etc has to be taken into account while considering epigenome sequencing. These are some of the major issues that may arise but have been rarely addressed by the various consortia under the shade of the International Human Epigenome Consortium (http://ihec-epigenomes.org/) that are decoding many tissues/cells specific epigenetic map from healthy donors as well as from diseased ones.
It is important to note that many of the above methods/techniques use only sodium bisulfite treatment and not glucosylation and thus cannot distinguish between 5-methylcytosine and the more abundant 5-hydoxymethylation marks (5-hmC marks are often protected by glucosylation in vivo). Thus more research needs to be carried out and we are clearly not at the stage of scientific certainty to use information about the human epigenome to solve a case in a court of law. The various methods documented here are not intended for exhaustive solutions for identification of forensic tissues, monozygotic twins, age determination of person from cells/tissue, authentication of DNA, etc. rather one or more of these methods can be selected based on the case profile, suitability of the forensic exhibits/samples in hand, or depending on the accessibility of the instrument/resource as required in each experimental method. The use of DNA methylation in forensic analysis is still a risky task considering the amount of genomic DNA obtained from the exhibit in some challenging cases, the sensitivity of the antibody in hand against 5mC, the suitability of the marker (DNA sequence) selected for PCR amplification and the detection methods/instrument used in the analysis. Despite these thwarting circumstances, advancement of methylation research and providing relevant training facilities to the forensic personnel can certainly overcome the above limitations producing enough expertise to introduce these sophisticated molecular techniques in very near future. The beginning of DNA methylation studies in forensic science is fundamental to support the conventional STR profiling and it is quite evident that in near future this technique may be utilized to produce independent evidence as well as corroborative evidence to detect, map and solve an array of forensic cases.
Abbreviations
5mC:

5-methylcytosine
aDMRs:

Ageing associated differentially methylated regions
Beadchip:

Bead chromatin immunoprecipitation
BS-seq:

Bisulfite next generation sequencing
COBRA:

Combined bisulfite restriction analysis
CpG:

Cytosine-phosphate-guanine
ddNTPs:

Dideoxynucleotide triphosphate
DMH:

Differential methylation hybridization
DMRs:

Differentially methylated regions
dNTPs:

Deoxynucleotide triphosphate
IP:

Immunoprecipitation
MBD-seq:

Methyl-CpG binding domain protein sequencing
MeDIP:

Methylated DNA immunoprecipitation
MRE-microarray:

Methylation sensitive restriction enzyme based - microarray
MSP:

Methylation specific PCR
NGS:

Next generation sequencing
SAM:

S-adenosyl-L-Methionine
SBE:

Single base extension
SBS:

Sequencing by synthesis
SNP:

Single nucleotide polymorphism
STR:

Short tandem repeats
TET:

Ten-eleven translocation proteins
WGA:

Whole genome amplification
Declarations
Acknowledgements
I sincerely thank State Forensic Science Laboratory Jharkhand as well as Department of Police, State Government of Jharkhand, India for its support in bringing out this review at the State Forensic Science Laboratory Jharkhand, Ranchi, India.
Availability of data and materials
Not Required
Author's contributions
AKR is the sole author and contributor of this review article.
Ethics approval and consent to participate
Not Required – This is a review article.
Consent for publication
Not Required – This is a review article.
Competing interests
The author (Rana, A.K.) certify that there is no academic or financial interest accrued to anyone and no other conflicts of interest exists whatsoever.
Publisher's Note
Springer Nature remains neutral with regard to jurisdictional claims in published maps and institutional affiliations.
Open AccessThis article is distributed under the terms of the Creative Commons Attribution 4.0 International License (http://creativecommons.org/licenses/by/4.0/), which permits unrestricted use, distribution, and reproduction in any medium, provided you give appropriate credit to the original author(s) and the source, provide a link to the Creative Commons license, and indicate if changes were made.
Authors' Affiliations
(1)
Division of Biology, State Forensic Science Laboratory, Ministry of Home Affairs, Government of Jharkhand, Ranchi, India