Original Article
Open Access
Analysis of fortuitous matches in a STR genotype database from Mexico and its forensic efficiency parameters
Egyptian Journal of Forensic Sciences
2017
7:19
Received: 9 May 2017
Accepted: 12 November 2017
Published: 6 December 2017
Abstract
Background
Commercial kits for Human Identification (HID) purposes, based on 15 short tandem repeat (STR) regions, allow the resolution of most forensic and paternity cases. However, some pitfalls arise in situations such as identification of missing persons, disaster victims, and in motherless paternities. We describe nine fortuitous matches found during the inclusion of new DNA profiles and/or searching for missing persons within a Mexican STR database (N = 2000). For these cases, we estimated both the likelihood ratio (LR) and the modified LR according to National Research Council (NRC) recommendations (i.e., LRNRC).
Results
In most cases, low LRNRC values (~1 or <1) and elevated presence of modal STR alleles (>50% loci) were indicative of fortuitous matches. We estimated a significant increase in the observed frequency of fortuitous matches in this database when using the PowerPlex 16 DNA-typing system. In addition, forensic efficiency parameters for this HID kit are reported for the State of Mexico based on a population sample selected from the STR database (n = 493). We describe the population structure and relationships, which detail comparative homogeneity among Mexican-Mestizos from the Central region, excluding the Western region.
Conclusions
The results suggest that additional / more powerful HID systems should be used when searching for relatives within STR databases in order to enable definitive conclusions, which are also required in cases of motherless paternity and massive disasters. The genetic structure described herein allows forensic geneticists to use alternative STR population data during statistical interpretation, given that most Mexican populations do not have their own STR databases.
Keywords
STRDatabaseMexicoFortuitous matchingFalse kinship
Introduction
Short tandem repeat (STR) loci are the most informative genetic markers used worldwide for human identification (HID) purposes. Although commercial kits that analyze 15 STRs allow solving most forensic and paternity cases, some pitfalls arise in situations such as the identification of disaster victims, missing persons, and in motherless paternity cases (Wurmb-Schwark et al. 2006; Coletti et al. 2008; Borovko et al. 2009; Li et al. 2012; Ziętkiewicz et al. 2012). In our experience, the lack of informative reference samples (first-degree relatives) is probably the most common problem when identifying unknown bodies. This is sometimes overcome by searching STR databases that include samples from missing persons and their relatives, criminals, victims, etc. (Álvarez-Cubero et al. 2012). A considerable number of countries have established local databases that include the 13 STR loci of the Combined DNA Index System (CODIS), the amelogenin locus for gender determination, and additional STRs depending on the HID kit employed (Collins et al. 2004). In 2011, the federal State of Mexico (located within the Central region, Mexico) established a civil and criminal STR database containing approximately 2000 DNA profiles analyzed with the commercial PowerPlex 16 System (Krenke et al. 2002). Although many Mexican populations have been analyzed with autosomal STRs to support forensic casework (Rubi-Castellanos et al. 2009; Salazar-Flores et al. 2015), only the following states/regions of the country have been studied with the PowerPlex 16 kit: Guanajuato, Veracruz, Nayarit, Yucatan, Mexico City, and the Western region (Rangel-Villalobos et al. 2010; González-Herrera et al. 2010; Ramírez-Flores et al. 2014; Martínez-Sevilla et al. 2016). Furthermore, the population structure and genetic relationships of the Mexican populations remain unexplored using PowerPlex 16 System.
Therefore, we analyzed this STR genotype database from the State of Mexico. The findings: i) report nine fortuitous matches detected during the addition of new DNA profiles to this genetic database, which suggest first-degree kinship; ii) evaluate the presence of modal alleles in these cases; iii) estimate the expected probability of finding these fortuitous matches; iv) estimate statistical parameters of forensic efficiency in this previously unstudied population (State of Mexico); and v) evaluate the structure and genetic relationships among Mexican populations previously studied with the PowerPlex 16 system.
Material and methods
DNA extraction
Bones analyzed in this work were previously decalcified with EDTA 0.5 M. Bone slices were treated with a Proteinase K Digestion Solution prepared with Bone Incubation Buffer and Proteinase K solution at 21 mg/mL (Promega Corp. Madison, WI). Similarly, tissues (mainly muscle) were digested with Proteinase K and digestion buffer, whereas saliva swabs were spun for DNA extraction from the resulting pellets. The final step of DNA extraction employed the DNA IQ System according to the manufacturer's instructions (Promega Corp., Madison, WI). Conversely, blood samples obtained from relatives, or reference samples included in the database, were placed on FTA cards and processed with FTA purification reagent (Whatman Inc., Clifton, NJ). One punch derived from FTA cards was used during PCR amplification as DNA sample. All individuals provided a signed, written informed consent in accordance with the ethical guidelines of the Helsinki Declaration. The anonymity of the recruited individuals was preserved. This project was authorized by the Ethical Committee Dirección de Servicios Periciales de la Fiscalía General de Justicia del Estado de México (PGJEM).
STR genotyping
The PowerPlex 16 system was used according to the supplier's instructions (Promega Corp. Madison, WI). Amplified products were run by capillary electrophoresis using the ABI Prism 310 Genetic Analyzer (Applied Biosystems, Foster City, CA). Allele calling was achieved by comparison with the allelic ladder provided in the kit, helped by GeneMapper software (version 3.2).
STR database creation
DNA profiles based on the 15 STRs constituting the PowerPlex 16 system were individually uploaded into the Genetics Platform (Server Unix Solaris, Architecture Sparc64, Motor Rdbms Oracle, Enterprise Edition) developed by Grupo Empresarial Iberoamericano (GEI) (http://geigen.mx). In accordance with international recommendations (http://enfsi.eu/documents/), the inclusion criteria and upload process of DNA profiles to the STR database included quality control verification of the laboratory's procedures (ENFSI DNA Working Group 2014). The laboratory has participated in the quality control exercise organized by the Grupo Iberoamericano de Trabajo en Análisis de DNA (GITAD: http://www.aicef.net/). The STR genotype database primarily contains details on unknown bodies, people searching for missing relatives, and biological evidence from criminal cases. The sample's origin was recorded in the database for classification purposes. We carefully selected a subpopulation of unrelated individuals to estimate forensic parameters (n = 493). For this purpose, we excluded genetic data from criminal samples, unknown bodies, and from individuals sharing surnames in order to avoid possible kinship in this subpopulation sample.
Data analysis
Allele frequencies and the following statistical parameters of forensic importance were calculated using the Excel spreadsheet Powerstats (Tereba
2001
): allele frequencies, minimum allele frequencies (MAF), probability of exclusion (PE), power of discrimination (PD), polymorphism information content (PIC), observed heterozygosity (Het), and typical paternity index (TPI). GDA (version 1.1) software was used to perform Hardy–Weinberg equilibrium (HWE) and linkage disequilibrium (LD) tests (Lewis and Zaykin
2002
). For the interpopulational analyses, we included STR datasets from four Mexican populations (Rangel-Villalobos et al.
2010
; González-Herrera et al.
2010
; Ramírez-Flores et al.
2014
; Martínez-Sevilla et al.
2016
) and from four main American ethnic populations (Hill et al.
2013
). Geographic location of the Mexican populations is represented in Fig.
1
. Analysis of molecular variance (AMOVA), Fst distances, and pairwise Fst
p
-values were estimated with Arlequin 3.1 software (Excoffier et al.
2005
). Distances were represented graphically in a multidimensional scaling (MDS) plot using the software SPSS (version 20.0 for Windows).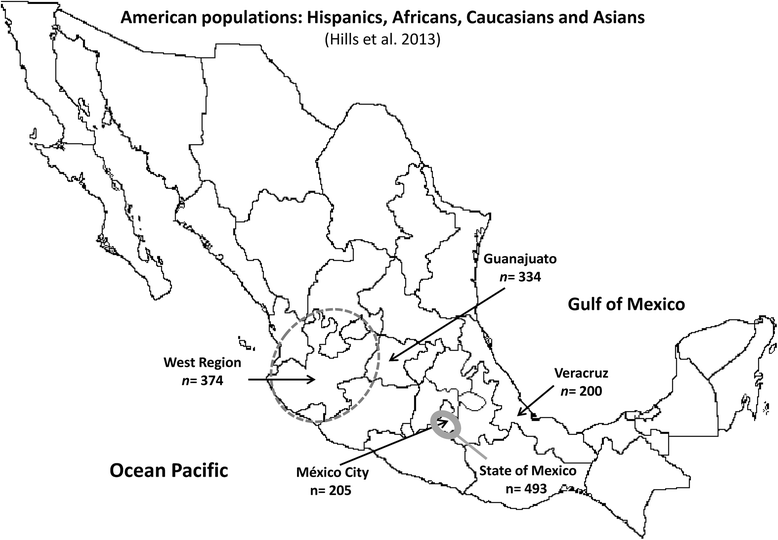 Likelihood ratios (LRs) representing paternity indexes with only one parent (motherless of fatherless) were computed either when the match was detected during the inclusion of new DNA profiles, or when searching missing persons within the STR database. Bayesian posteriori probabilities assuming equal prior probabilities (0.5) for the two alternative probabilities were considered for this purpose (Gjertson et al. 2007), using the allele frequencies reported here and the Familias 3 software (Kling et al. 2014). In addition, we estimated another LR, termed LRNRC, by applying a correction factor according to the size of the database (i.e., N = 2000). This follows Recommendation 5.1 of the National Research Council (NRC II), which was endorsed by the FBI's DNA Advisory Board in the February 2000 recommendations on statistical approaches (National Research Council (NRC) Committee on DNA Forensic Science 1996). In order to check whether the observed cases showed agreement with expectations simply by chance, we estimated for each STR the matching probabilities between all possible genotypes sharing at least one allele. For this purpose, HWE and equilibrium linkage assumptions were applied for estimating genotype and DNA profile frequency, respectively. The combined matching probability was obtained by applying the product rule and the Bonferroni correction according to the sample size (N = 2000), using Microsoft Excel 2007.
Conclusions
In brief, results emphasize the importance of analyzing a sufficient number of relatives and/or HID systems to reach reliable conclusions when searching for relatives in STR databases for DVI, missing persons identification, and motherless paternity cases. When this is not possible, the concomitant presence of low LRNRC values (~1 or <1) and elevated presence of modal STR alleles should be analyzed to detect possible fortuitous matches. Interestingly, an increased frequency of fortuitous matches was observed in the studied Mexican STR database. Finally, we observed a relative homogeneity among Mexican-Mestizos of the Central region based on the PowerPlex 16 system.
Declarations
Acknowledgements
We thank to COMECYT: 8BCD0013 for the Doctoral fellowship to J.A. Quiroz-Mercado.
Funding
This work was supported by the Dirección de Servicios Periciales de la Procuraduría General de Justicia del Estado de México (PGJEM).
Availability data and materials
The complete STR genotype database from the studied Mexican population is available upon request to the corresponding author.
Authors' contributions
Conception of the project. QMJA, JDH, MRR, RVH; Population sampling and DNA Extraction. QMJA, RRR, CMG, SHJC; Genotyping process. QMJA, RRR, CMG, SHJC; Population data analysis. QMJA, MSVM, RVH; Discussion of results and writing of the manuscript. QMJA, MSVM, RVH. All authors read and approved the final manuscript.
Ethics approval and consent to participate
All volunteers included in the population study signed a written informed consent according to the ethical guidelines of the Helsinki Declaration. The anonymity of the recruited individuals was preserved. This project was authorized by the Ethical Committee Dirección de Servicios Periciales de la Procuraduría General de Justicia del Estado de México (PGJEM).
Consent for publication
Not applicable
Competing interests
The authors declare that they have no competing interests.
Publisher's Note
Springer Nature remains neutral with regard to jurisdictional claims in published maps and institutional affiliations.
Open AccessThis article is distributed under the terms of the Creative Commons Attribution 4.0 International License (http://creativecommons.org/licenses/by/4.0/), which permits unrestricted use, distribution, and reproduction in any medium, provided you give appropriate credit to the original author(s) and the source, provide a link to the Creative Commons license, and indicate if changes were made.
Authors' Affiliations
(1)
Forensic Genetics Laboratory, Instituto de Servicios Periciales, Fiscalia General de Justicia del Estado de México, Toluca, Mexico
(2)
Laboratory of Molecular Diagnostics, Department of Biochemistry, Escuela Nacional de Ciencias Biológicas, Instituto Politécnico Nacional, Mexico City, Mexico
(3)
Instituto de Investigación en Genética Molecular, Universidad de Guadalajara (CUCiénega-UdeG), Ocotlán, Mexico